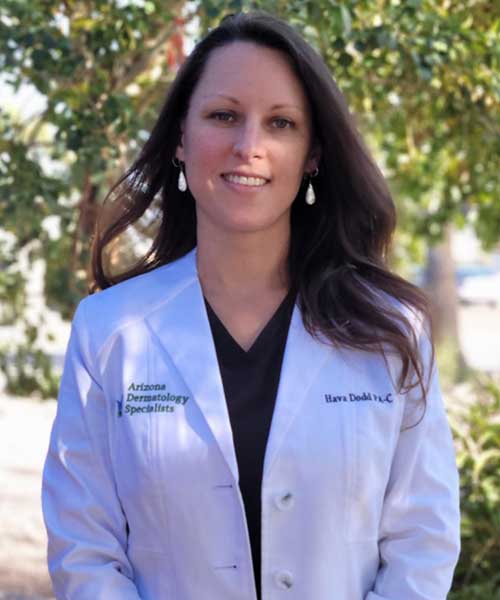 Havilah Dodd (Hava) is a board-certified Physician's Assistant. She joined Arizona Dermatology Specialist in 2021. She has been native to Arizona for over 20 years now. She is originally from Colorado, where she obtained a Bachelor's of Science in Biochemistry. She later completed her Physician Assistant Masters Degree at Northern Arizona University. She has experience in dermatology, research and family practice. She has also trained in permanent make-up micropigmentation and lasers.
Hava is a Associate of the Phoenix Dermatology Society, International Dermoscopy Society and Society of Dermatology Physician Assistants.
Hava's passion is driven by the bonds she strives to build with every patient. She believes these bonds empower them to be a partner in understanding their dermatological needs.
On her days off, she enjoys almost anything outdoors with her family. Her adventures vary from camping to fishing and snowboarding to kayaking. She has a soft spot for plants and animals and enjoys being surrounded with them which includes the 4 Great Danes she lovingly raises.
She is very excited to be part of Arizona Dermatology Specialists and is proud to work with such a fantastic team of providers.