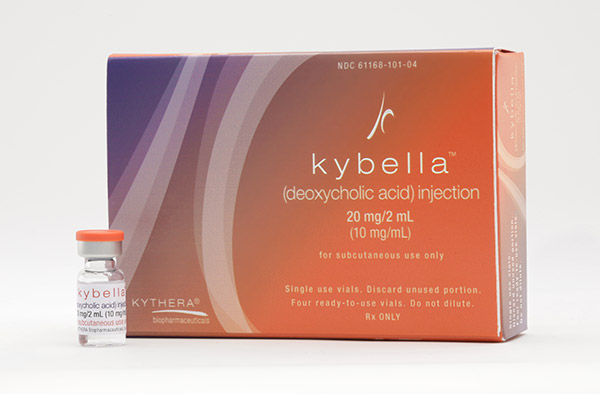 KYBELLA® is an FDA-approved treatment that can permanently improve your profile by reducing the fat under your chin.
The active ingredient in KYBELLA® is deoxycholic acid.   This is a naturally occurring molecule already found in the body that aids in the breakdown and absorption of dietary fat.  It is synthetically made, and when injected into the fat beneath the chin, it destroys fat cells resulting in a noticeable reduction in fullness under the chin. Once destroyed these cells can no longer store or accumulate fat, so further treatment is not expected once you reach your desired aesthetic goal.
When you come in for your KYBELLA® we will examine the area under and around your chin to ensure you are a good candidate.  This treatment is ideal for patients with persistent fullness under the chin.  It does not address loose or sagging skin or muscle under the chin, however.  There are other procedures such as neck or face-lift are more capable of correcting these conditions.
Treatment with KYBELLA® in our offices is always performed by a trained physician. At each treatment you will receive multiple small injections under your chin, and the injection process takes about 15 to 20 minutes. The exact number of injections will depend on the amount of fat you have under your chin and your desired profile.  Each treatment session is given at least 4-6 weeks apart.
After each KYBELLA® treatment, you will likely have some swelling, bruising, or temporary numbness under your chin. Be sure to inform your healthcare professional if you develop an uneven smile, facial muscle weakness, or difficulty swallowing.
The most common side effects that occur in the treatment area include:
Swelling
Bruising
Pain
Numbness
Redness
Areas of firmness
Side effects are temporary and often resolve on their own.
KYBELLA® treatments offer a FDA approved non-surgical option for recontouring the fat under the chin in a gradual and straightforward manner.  We are happy to now offer this service.  Call today for a free no-obligation consultation!
Click image below to enlarge: